Hi All,
The fuel tank in my '98 V6 is severely rusted. I'm trying to get it a replacement tank but I've noticed a difference in part numbers. GM2799C for all 4th gens 93-97 and part# GM27114C for 98-02.
I was at the junkyard today and pulled several tanks. Unfortunately I couldn't take any with me because they puncture them pretty badly before they put the cars out on the yard.
I pulled one from an '02 Camaro and it was definitely different from the one I have in my '98. I pulled one from a '97 Camaro and it looked the same as the one I have in my '98.
Will a '97 and before tank fit in a '98? I noticed the fuel pumps are slightly different between these two years but I would be transferring my '98 pump over. I have attached an image of my '98 tank.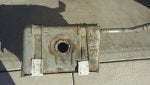 Thank you!