Discussion Starter
·
#1
·
View attachment 153121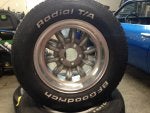 I recently bought a set of four of the abve pictured wheels.
They are stamped on the inside of the rim, Western Wheel Company and 15x8.5
The bolt pattern is 4.75".
The wheels came with the tires mounted. I cleaned the wheels up, had them balanced and mounted them on my 1978 Trans Am.
A short test drive resulted in some rubbing going on in the left front wheel well. I found where it was rubbing and a few whacks with the ball peen hammer, problem solved. I took them for a drive and got up to highway speeds, and the things run true and straight, no wobbles no nothing.
Anybody ever seen this type of wheel, they look pretty old.