Okay, probably about time to do the 'Official Gray Ghost Introduction'. Some of you may have heard the story, but I never get tired of telling it, so bear with me. In 1997, a buddy of mine had started TACH - the Trans Am Club of Houston, picking up where a former club had disbanded several years before. Since we worked at the same facility and I was in Graphics at the time, he enlisted my assistance in creating a club logo. This was before I was a diehard Pontiac fan, although I had owned a pretty sweet '83 Grand Prix from 1983 until 1988. Anyway, back to the topic at hand - I did a visual study of the 2nd Gen hoodbird designs and decided that would form a basis for the logo. See what you think:
Bob was hooked on the design and I was smitten by the urge to own a 'Screaming Chicken' of my own. Through the club newsletter, I learned of a fellow with two for sale - a '79 Pontiac Firebird 403 car and a 80 t-topped Pontiac Firebird 301. He was asking $1000 each. So, promising my wife that I wouldn't do anything foolish (unless it was a really, really good deal), Bob met me at my house and we drove out in the country in his pristine, award-winning 400/4-spd TATA. As we neared the place, I could hardly believe my eyes. Both cars were in the guy's front yard and from a block away, looked very complete. Perhaps this wasn't going to be a wasted trip after all. Did I mention that I love T-tops, despite their many problems. Yes, I had already pretty much made up my mind.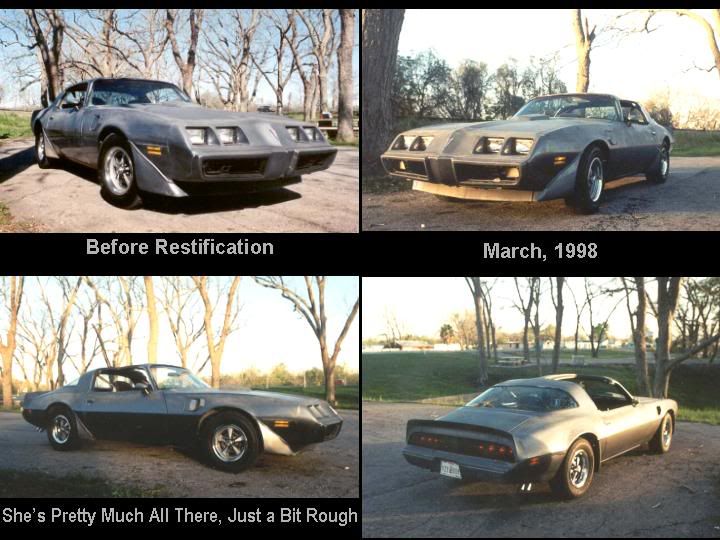 Keep in mind that this was February, 1998 and I had yet to own a digital camera. Therefore, I don't have many pics of Gray Ghost's early days. So, the guy comes out to greet us, see's Bob's Tenth and declares "you guys certainly don't need any of my cars!" I explain that, no, I didn't 'need' one, but was interested in looking nonetheless. Bob, being considerably more expert than me, was there to do transportation duty and offer his impressions of the cars. Both had been sitting out under a tree for some time, as leaves, sap and branches made pretty evident. But the guy had jumpstarted the cars the evening before to charge them up and after a little coaxing, my T-topped diamond-in-the-rough started and ran. We took it for a brief test drive, careful not to let the exposed seat springs go where no man has gone before. Yes, the interior was pretty rough as the sun had pretty much eaten up all the oyster gray plastic and vinyl. But the car ran, and that was the important part, and I though it might make it back to my house in one piece where further evaluation could take place. We negotiated a $750 pricetag because, as I put it, I'll have to get some seatcovers right away and it was very low on gas. The seller balked, but his wife must have smelled cash and gave him a nudge. 'Okay', he said, 'Deal!' Bob chided me on the way out the door with the keys, saying that if we hadn't reached a deal, he would have given the guy the whole thousand bucks!
I asked Bob to tail me home, just in case anything happened, so we stopped at a NAPA store for some seat covers, gassed up next door and were on our way - 40 long miles to the house. But a funny thing happened near the interstate: Bob couldn't resist the urge to romp on his Tenth, just to show off the inferiority of my anemic 4.9 (non-turbo) with it's factory-rated 150 hp. In so doing, Bob threw his fan belt and effectively disabled his own car! So I turned around, picked him up after securing his car by the roadside and carted his rump back to NAPA for some belts, hoses and a screwdriver set. Note to self: never go anywhere in an old car without tools and supplies in the trunk!
But we did make it back home after helping Bob replace two derailed belts and an upper radiator hose. I sheepishly greeted my wife on the driveway by saying 'it followed me home - can I keep it?'
Anyway, the next order of business was gutting and replacing the interior. I got all my plastic pieces and the hobnail cloth seats off of ebay from a guy in KS who was parting out a late-2nd Gen. It cost me all of $150 and necessitated a switch from gray to black, but I liked it better that way. My inlaws were vacationing in CO and I had them detour slightly on their way home to stop by KS and pick up the loot, so I didn't even have to pay shipping! (did I mention that this has been a low-buck, DIY project from day one?)
Anyway, I've done all the work myself, with help from other TACH buddies and even got the paint & body done for less than $3k. I won't bore you with any more verbage, but allow the pics to do the talking: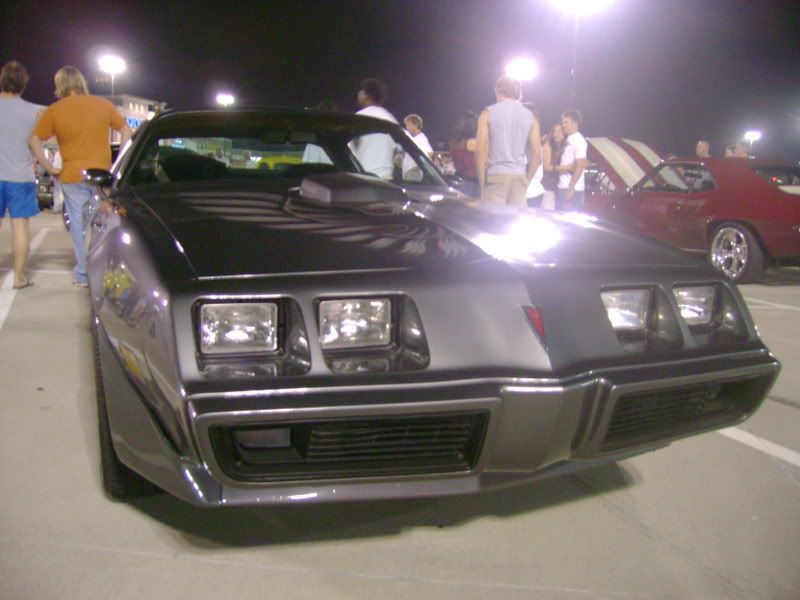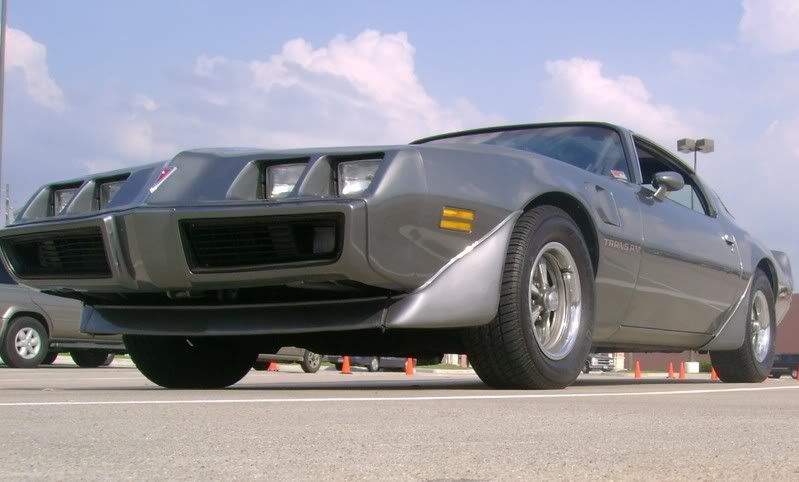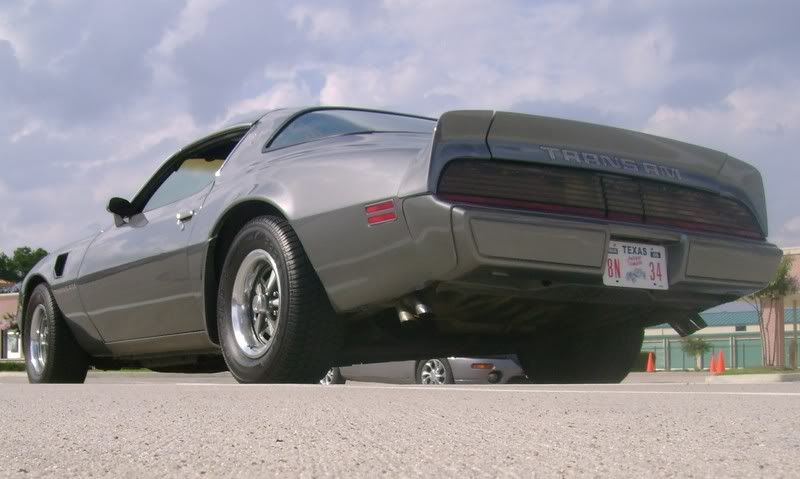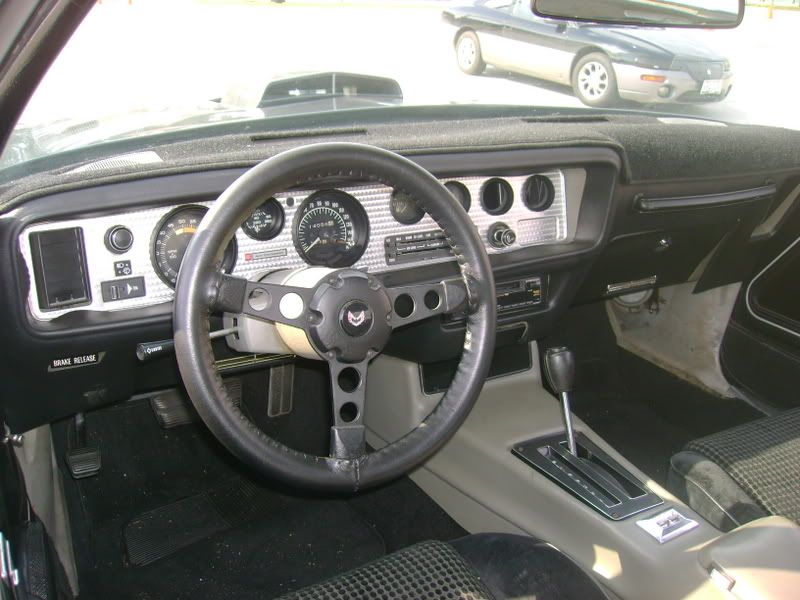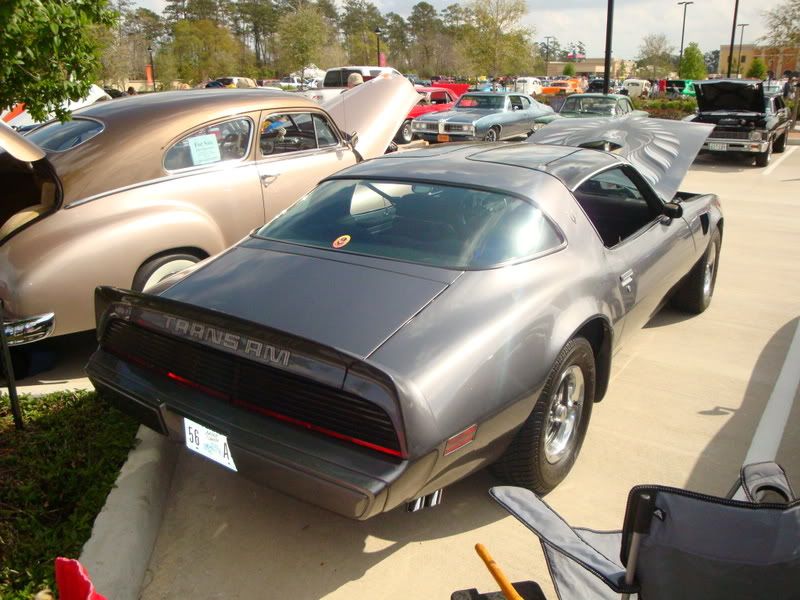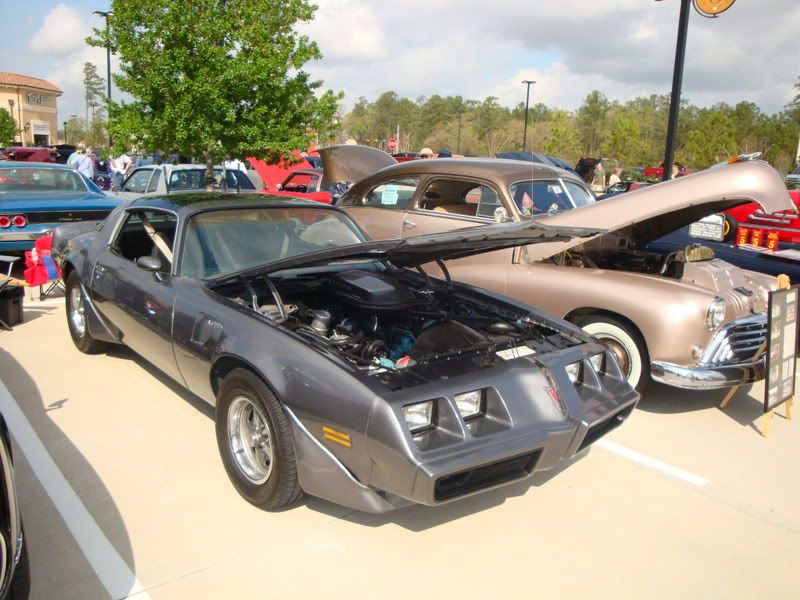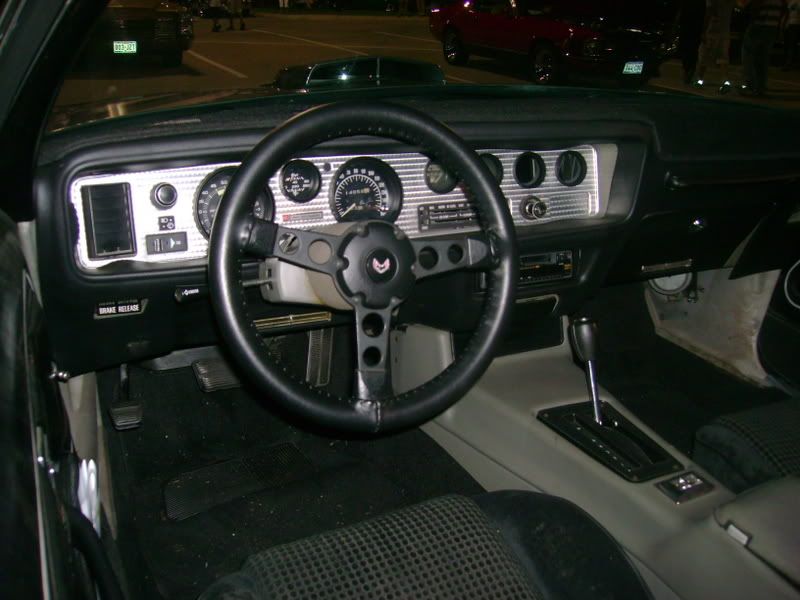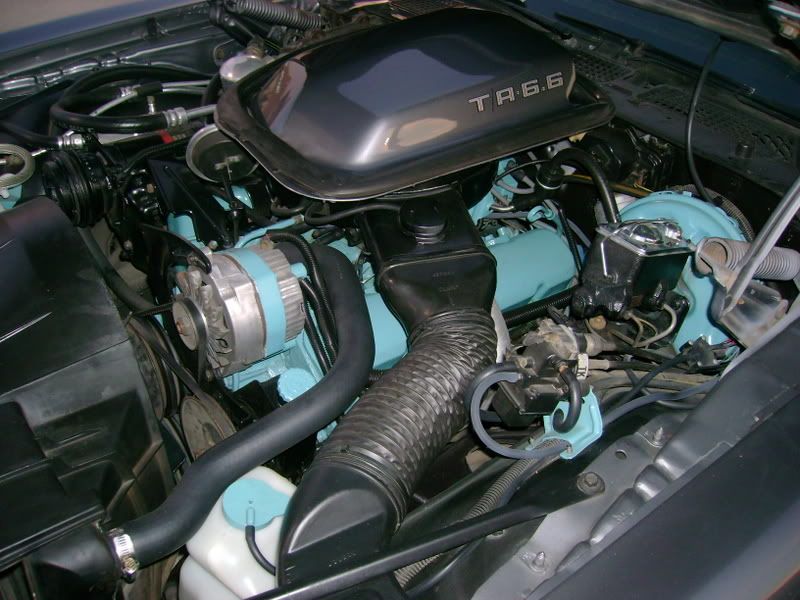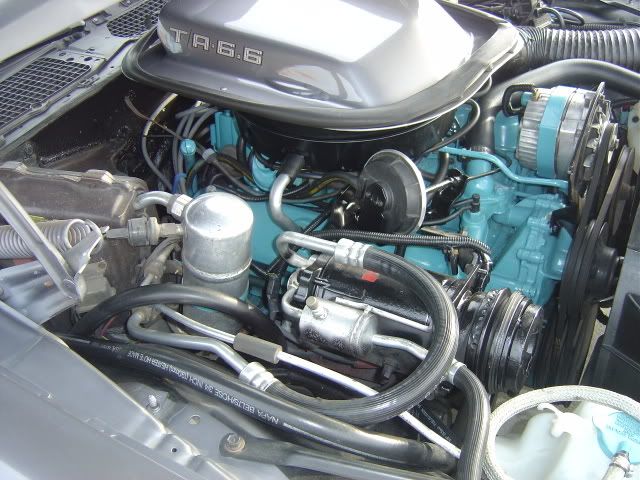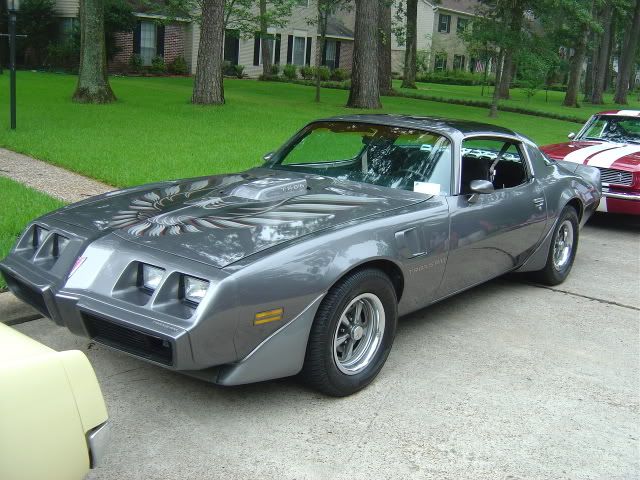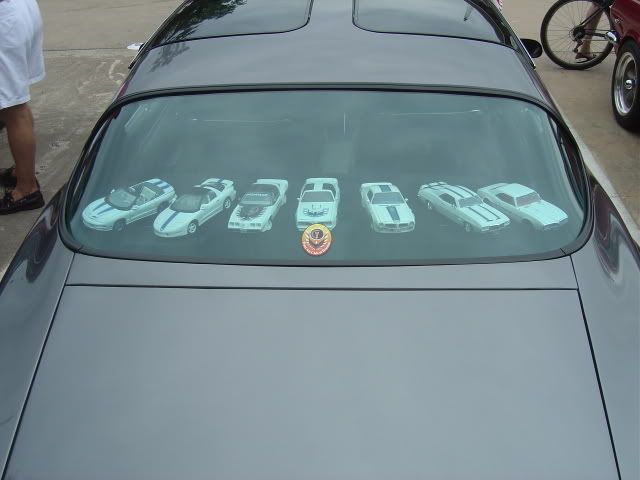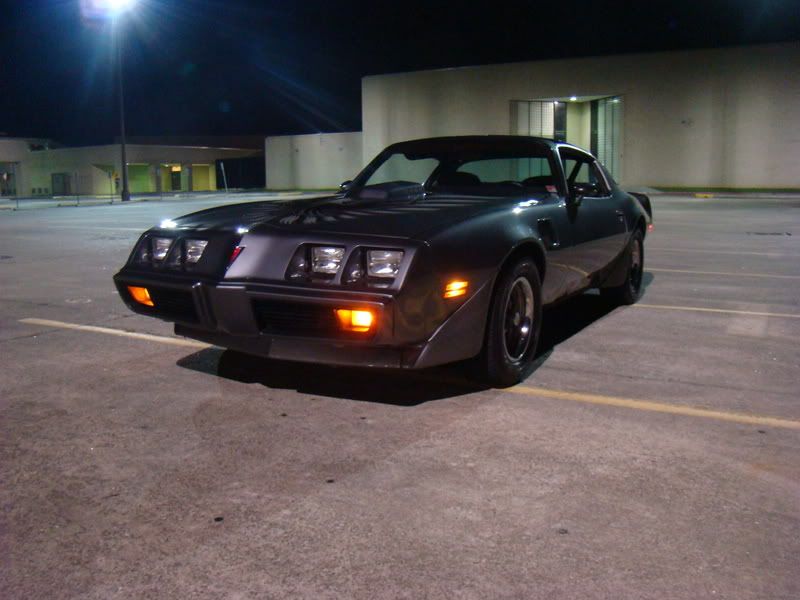 http://img.photobuck...08/DSC01468.jpg
http://img.photobuck...08/DSC01472.jpg
http://img.photobuck...08/DSC01477.jpg
http://img.photobuck...08/DSC01481.jpg
http://img.photobuck...08/DSC01485.jpg
http://img.photobuck...08/DSC01480.jpg
'Thank you very much and I hope we passed the audition!'