A Year ago I bought this, a 1986 Trans Am. Here's what it looked like in the add that I saw on Craigslist:
I drove it like this for a while, while I got used to it and figured out what needed to be done. This one was taken on a day that I went on a cruise with a local GM club:
Soon after that pic was taken, I tore apart the stock 305, and replaced the head gaskets, and had the exhaust replaced. I also had a new carburetor installed. The first modification I did was to paint the deep dish 15" wheels a flat black, and add some gold pinstiping: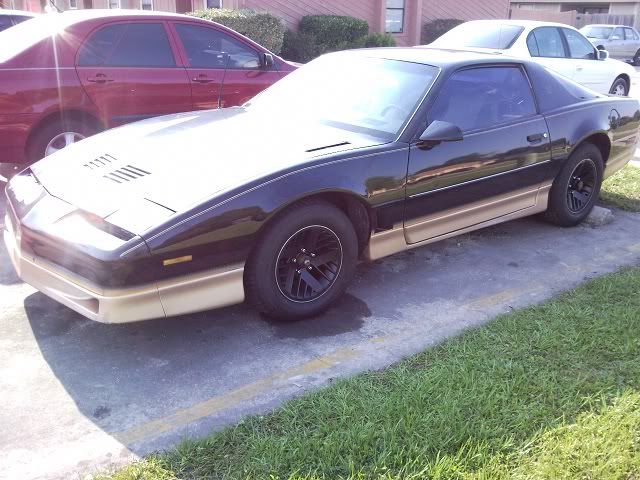 A while later I came across some vinyl sticker paper for regular ink-jet computer printers, and made up some graphics:
Next, I replaced the Trans Am tail lights with a set of Firebird tail lights that I found in a local salvage yard. I did this for 2 reasons. 1, the lights that were on there were broken and looked like crap, and 2, I like the way the Firebird lights look better: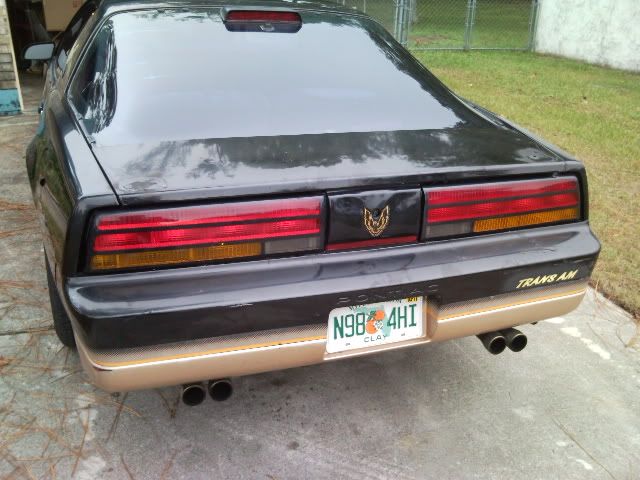 Then I decided to paint the ground effects black, and printed up some new graphics and redid the pinstripe layout to mimic that of the 1977 "bandit" movie car:
I purchased a 1990 GTA to use as a parts car. It was rusted beyond repair, but the plastics were in perfect condition. I got a dash board with no cracks, center console, instrument cluster, plus the GTA wheels:
I decided to replace the stock 305 with a remanufactured 350 crate engine, and here's what the engine bay looks like, now that I've cleaned it all up and painted it: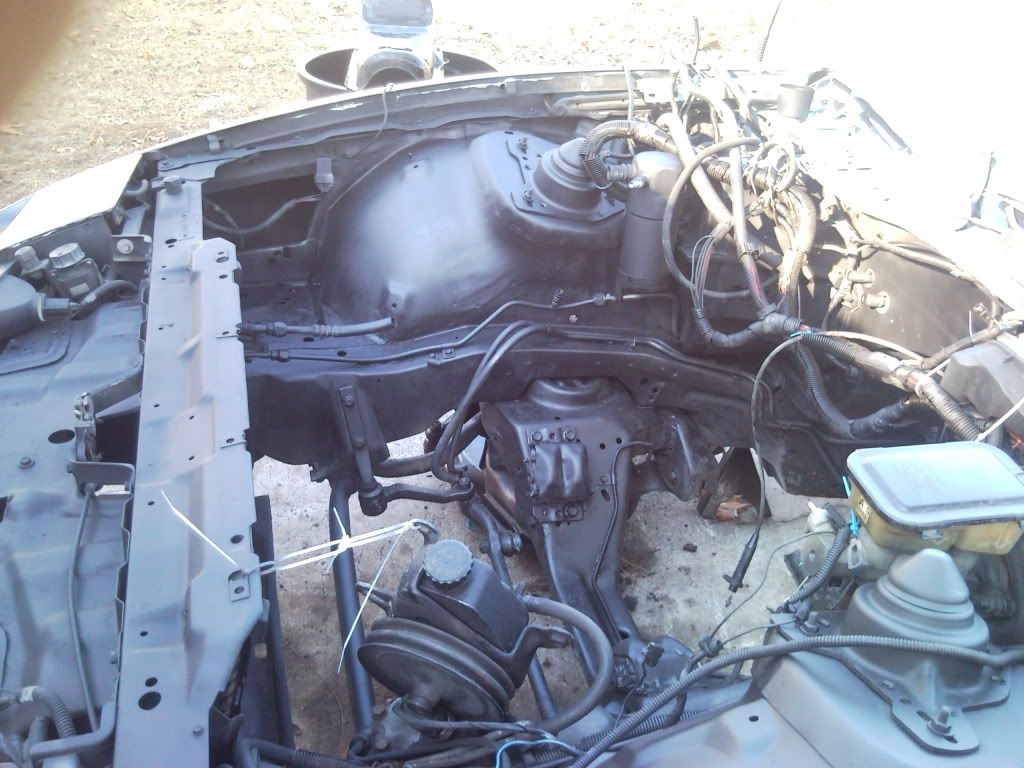 Shot of the new engine, work in progress:
http://i718.photobuc...71/P1010726.jpg
I got a notion to paint the bird on the valve covers. I painted a small block with gold, printed out and trimmed a small bird, then stuck it on the gold and painted over it with the flat black that I used on the covers. After removing the sticker, here's what it looks like:
http://i718.photobuc...1/SNC00100a.jpg
http://i718.photobuc...1/SNC00099a.jpg
http://i718.photobuc...1/SNC00101a.jpg
http://i718.photobuc...1/SNC00098a.jpg
I've just got a few things left to do with the engine, and it'll be ready to drop into the car. I have the torque converter and transmission to put back on, then all of the accessories once it's in. I should have it running some time this weekend.
Well, that's my bird. Thanks for looking.
Will
"When you tell somebody something, it depends on what part of the United States you're standing in as to just how dumb you are." - The Bandit
Edited by Will71, 20 January 2011 - 07:18 PM.