I am from Minnesota
Started by
,
Jan 18 2007 04:46 PM
Posted 18 January 2007 - 04:46 PM
I am from St. Cloud.

---
Posted 19 January 2008 - 10:10 PM
Alexandria, myself. 68 Firebird. Weather sucks, doesn't it??

---
Posted 20 January 2008 - 08:56 AM
i am from north iowa just 8 miles south of the minnesota border or about an hour south of mankato.
i own a 67 firebird, a 78 trans am W72 project car, a 79 trans am 10th anniversay and a 02 collector edition TA.
and yes the weather sucks 12 below and a high of 0 cant wait for spring

our birds:
1967 Firebird
1979 10th Anniversary Trans Am
1979 W72 400 4 speed Trans Am
1984 Trans Am 15th Anniversary
1991 Trans Am GTA
2002 Trans Am Collector Edtion #1358
2008 G8 GT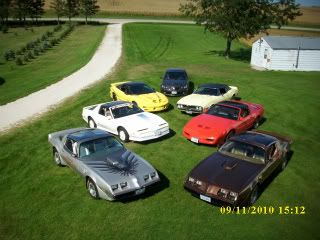 ---
Posted 20 January 2008 - 09:17 AM
Hey Chris, welcome aboard! I grew up in the Midwest too. I know all about the bone chilling winters we used to have. Now I live in the Northwest where if I want to see snow, I only have to drive a few miles away to keep from getting homesick.
Bob
(Doc Smith) - 'Mechanically challenged and doing my best'
2004 GTO, Phanton Black
A veteran is someone who, at one point in his life wrote a blank check Made payable to "The United States of America " for an amount of "up to and including my life." That is Honor, and there are way too many people in This country who no longer understand it."
"I'd rather be a failure at something I love than a success at something I hate." George Burns (1896-1996)
FBNCC - National Operations Member
When she's all done, it will look just like this:
1979 Formula, 301 ci TH350, Cameo White (under restoration)
---
Posted 15 April 2008 - 02:10 PM
Checking in from Blooming Prairie. I have a Black/Black '88 Trans Am GTA.

---
Posted 02 July 2008 - 06:54 AM
I'm from MN too, south of the twin cities.
Edited by fab formula, 02 July 2008 - 06:55 AM.
---
Posted 03 January 2009 - 01:21 AM
St. Cloud going to school until summer and then Richfield / Minneapolis from then on!

---
Posted 10 March 2009 - 08:06 PM
Your "cold" winters have nothing on ours here in Duluth MN. July and August are the only 2 months of the year it has never snowed here

---
Posted 24 April 2009 - 01:48 PM
We live in St James (way southern Minnesota) and the weather, well, I don't mind it so much except that we don't drive the TA too much in the snow.

---
Posted 24 April 2009 - 01:55 PM
There is an autocross in Windom, MN every June put on by the university of okoboji corvette club. Open to all makes and models. We go every year, this year it is on June 14th. Registration from 9 - 10 at the Windom municipal airport. Cost is..., um I think it's around $25. Anybody interested in meeting there?

---
Posted 07 June 2009 - 09:53 PM
im from owatonna myself down in the boonies

---
Posted 08 June 2009 - 04:38 AM
i been to Owatonna a couple of times not to far from the iowa border welcome to fbn josh

---
---
0 user(s) are reading this topic
0 members, 0 guests, 0 anonymous users