Well,
Time to post up another car of mine.
She is a 1979 Pontiac Firebird Trans Am convertible Noturne Blue 403 Olds powered bundle of joy.
Made new, by NCE.
With a sticker price of $14,000.00, over the price of the car!
One big reason Pontiac/GM didn't make them, it would cost too much.
I have always like ragtops, since my Dad taught me to drive, in his Caddy Series 62 convertible.
This is my third Trans Am I owned.
I first saw this car at a local Trans Am Club event, going to Big Bear, California, in early 1985.
I even got to park next to it when we all stopped.
At the time, it had wire wheels, a light blue top, and an airbrushed bird on the hood.
I just stared at it a long time, and the owner of it stared at my car (I was driving my 1981 Turbo Trans Am Special Edition), and he even joked with me, about trading cars.
I was for it, but I had car payments, so I couldn't (plus, I was married at the time).
I only saw that car just that one time, and then the car and the owner disappeared from the club.
I went thru a divorce, and now had some money, so I was looking for another Trans Am in 1987, and my new roommate said that he knew I loved convertibles, did I call on the one in the paper.
So, I go get the paper, and no ad.
At the time, my roommate was working in Orange County, and when I called him up at work, he said he was sorry, the paper was in Orange County.
He just happened to have the paper, and gave me the phone number for the car.
I call, and we are talking for about 30 minutes about the car.
He wanted $6,500.00 for it, and all I had, was $2,000.00.
So, in the end, I knew I couldn't afford it.
After 30 minutes on the phone with him, I told him I had seen a car like his, a few years earlier.
This car he was selling, had new paint, and a dark blue top.
He then told me the car had a light blue top before.
He asked me about my car, and he said he always loved the 1981 Turbo Trans Am Special Edition that he saw a few years earlier.
A light bulb went off in my head, and I asked him if his name was Rocky, and he said yes, is my name George.
Too funny.
We meet one day, and two years later, remember each other.
I told him that I only had 2 grand, and just went thru a divorce, so I couldn't get a loan for the car.
But, that I wanted to see the car, and take alot of pictures this time.
He laughed, and said grab my camera, and my 2 grand, and show up.
He gave me an address to see the car.
Well, of course I grab my money, camera, and a buddy, and off I went!
I get there, and look at the car (again, I forgot to take any pictures I was so excited), and even get to test drive it.
Now, the paint was new, no decals, and it had baby blue interior, which was really trashed big time.
Steering wheel broken in two of the three spokes, but held together with duck tape.
The driver's seat was broken on the top section (see, the owner was a big guy, and would sit on the very top of the seat, looking and leaning over the top of the windshield/car (with the top down)).
The carpet was worn out pretty much thru to the floor.
I didn't care, I just had to get the car.
Well, good news for me, as he was going thru a divorce too.
So, he made me a deal.
I give him 2 grand, and he let's me have the car,
He will charge me $200.00 per month, till the balance is paid off.
Then, I get the pink slip.
Oh, and he would write me a bill of sale for the 2 grand (to satisfy his ex).
And sell me the car for $4,500.00, since he knew me (even though we had onlyn really known each other for less than a day).
Now, I'm sure that now, everyone would walk away.
But this was back then, when people didn't screw anyone, and their word was good.
I accepted.
And I drove my new to me car home.
Now, what is even better, is that after I had paid off 2 grand of the 2500 I owed him, he sent me the pink, and said I didn't owe him anymore, that I kept my word.
What a super guy!
Once home, I bagan my work.
I tore out the interior, and ended up buying a junked 1979 Trans Am (which, all that is left, is my soon to be couch part of the car), to grab the whole black cloth deluxe interior, and swapped it over.
I even detail by painting the whole engine bay, and the top of the engine, for show.
I bought brand new decal kit from PG, and after putting on all the decals, found that they use the wrong colors in the decals (silver, instead of gold, like Pontiac used).
How did I find out?
Because I didn't use the T/A 6.6 decals they ship, I used the NOS 6.6 Liter decals that I bought new.
On top of that, I bought new carpet from Ames, and installed that, only to have the carpet fade to a lime green.
Ames said that they got a bad batch.
Fine, replace the one I got.
They told me it wasn't fair to them, that they would be out of money.
So, in the end, I got screwed.
Screw the company that made the bad batch, not me.
So, I don't use PG, or Ames anymore.
And don't intend to either, as I only use original GM decals, and I have never had any go bad on me.
Everyone else says to use aftermarket, as they are the best.
I got news for you all, they are made in batches, big batches.
And they sit around almost just as long.
Anyway, getting back to my car.
It is pretty much finished.
I have had a total blast with this car, even autocrossing it alot, and have had no problems.
The car has a dropped cat converter, and dual exhaust with Flowmasters.
The rear end was changed to a 3:08 pegleg rear, but the car hauls.
I put on all the WS6 parts, except for the shocks, which, pretty soon, I will install Konis, as I like them the best.
I even opened up the hood scoop, as it sounds just like a Police Car accelerating down the street.
I mean, it is so loud.
Why?
Well, now you hear it over the top of the car, with the top down.
Not just the side thru the windows.
I have run all styles of wheels on the car.
7 inch gold snowflakes.
8 inch grey snowflakes.
Even 8 inch gold Turbos.
And finally now, the 8 inch gold snowflakes.
Anyway, you are all probably bored now, so on to some pictures!
Here, at my local hangout, Redondo beach in the background.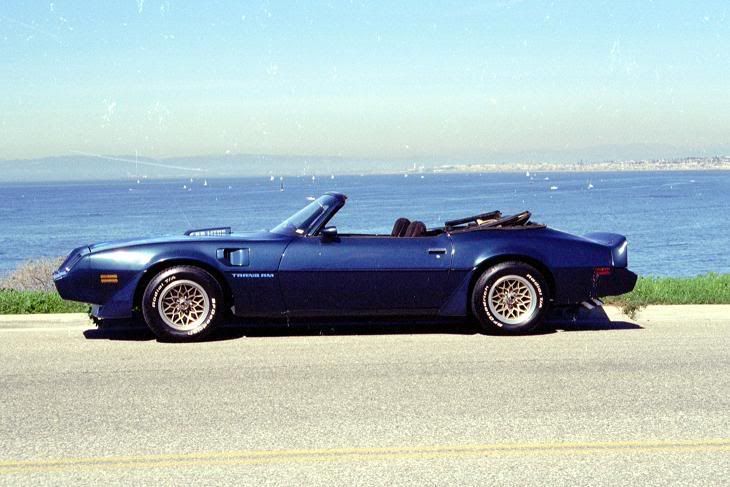 Here, autocrossing at a huge Trans Am event in Sparks, Nevada, at the GM Parts Plant parking lot.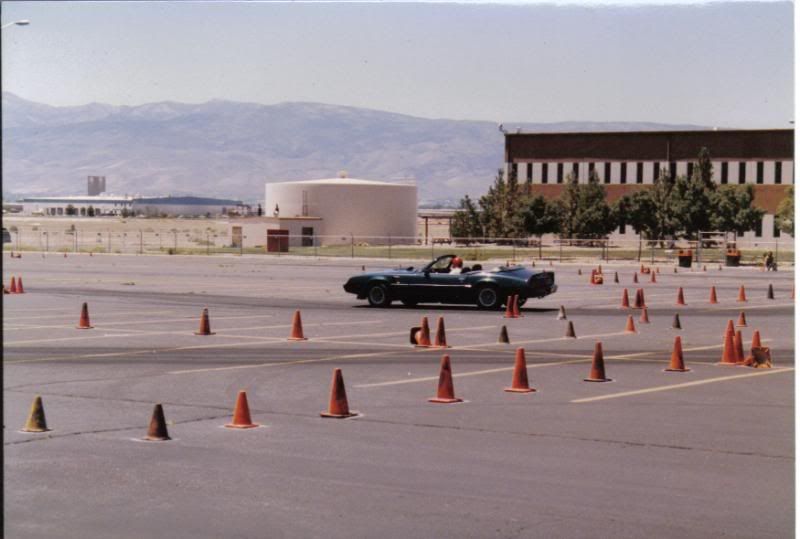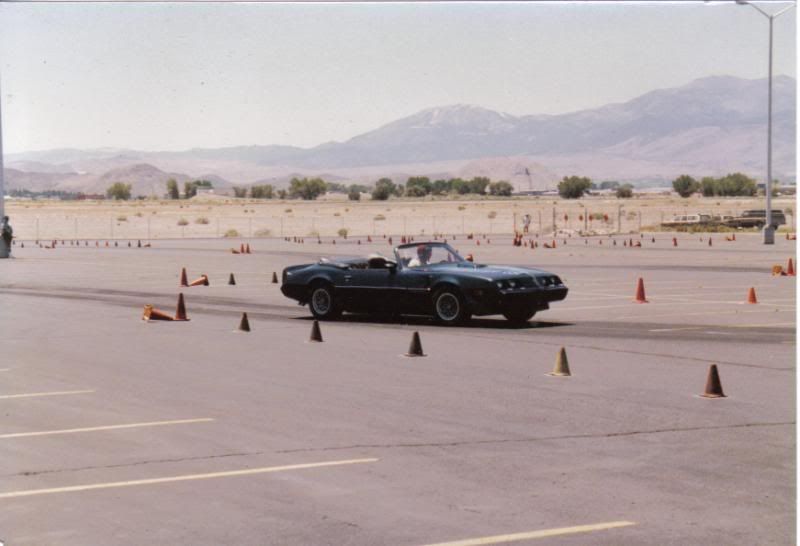 With a few friend's cars, at Luguna Seca Raceway.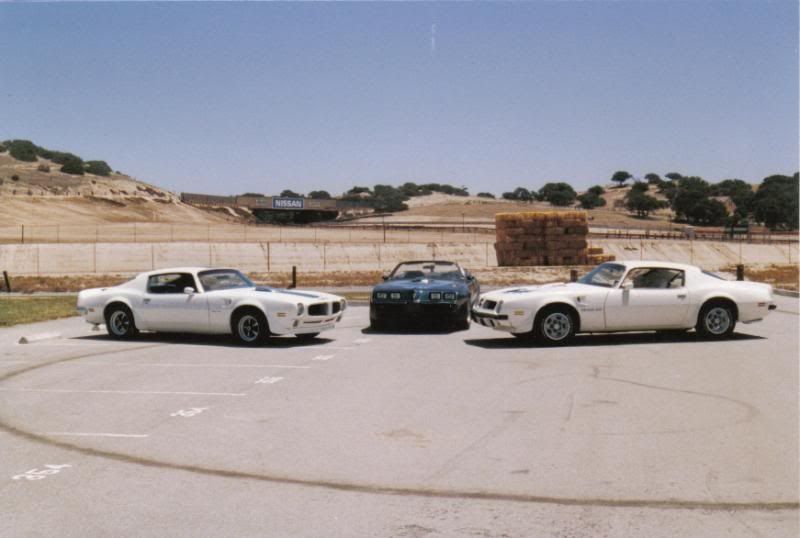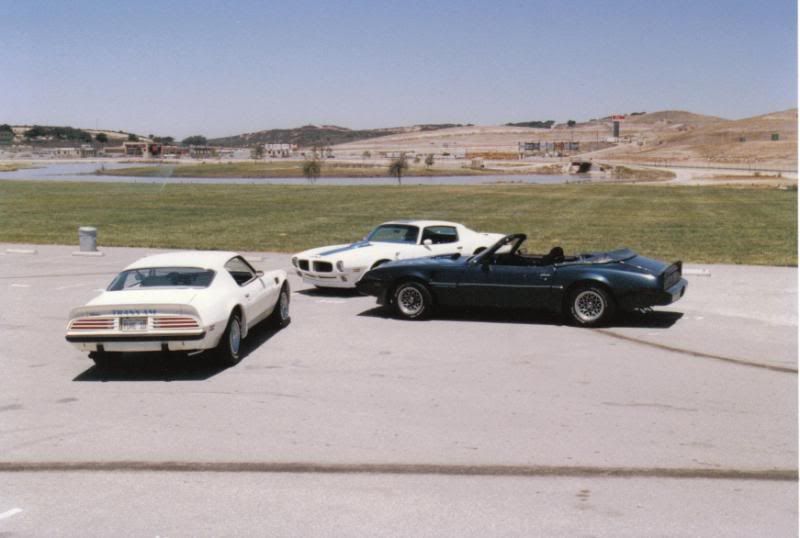 And here, playing with some wheel combos.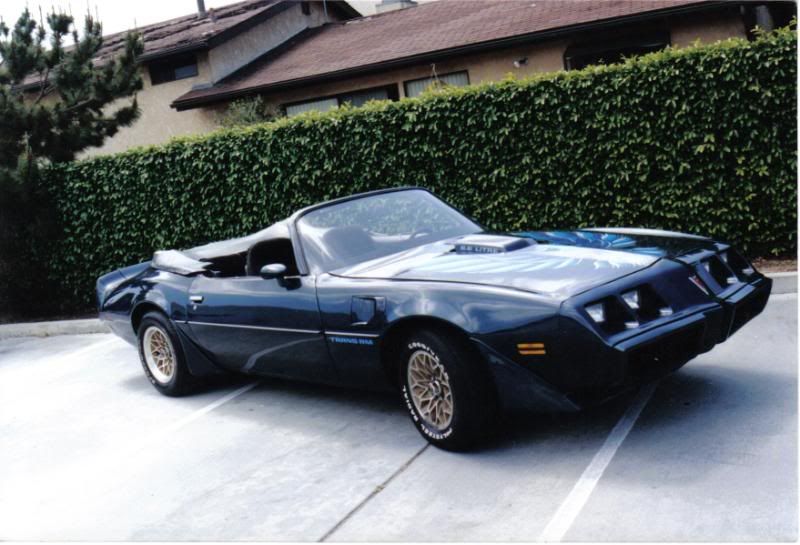 I have a ton more photos, just not scanned into my computer.
I will have to get a start on scanning, so I can post up more.
This is my baby, and I know how people are on this site.
If you don't like it, or have anything nice to say, then please don't post.
I don't intend to ever sell this car, and I will continue to enjoy it.
Thanks for looking,
George