Page 1 of 1
You cannot start a new topic

You cannot reply to this topic
Vin and cowl tag

can anyone decode them?
Posted 04 January 2010 - 06:24 PM
Just wondering if anyone can decode a vin number and a cowl tag?

---
Posted 04 January 2010 - 06:27 PM
yes we can,post it and we will decode it for you.

our birds:
1967 Firebird
1979 10th Anniversary Trans Am
1979 W72 400 4 speed Trans Am
1984 Trans Am 15th Anniversary
1991 Trans Am GTA
2002 Trans Am Collector Edtion #1358
2008 G8 GT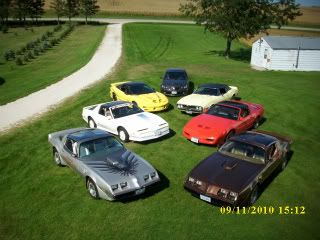 ---
Posted 04 January 2010 - 06:57 PM
vin is

223871L109078

http://i149.photobucket.com/albums/s46/isogrifo/Firebird%20Project/0104001634.jpg


Looks like:

ST 71-22387 L 07309 BDY
TR 203 67 67 PNT
03A 541893 050543

either 03A or 08A on the last line

also, is there such a thing as a sunroof firebird? I know of one that's for sale and it says it's a sunroof?

---
Posted 04 January 2010 - 09:43 PM
Hi Joel.
I have not been able to get on this site for a while and for some reason it will not let me post… I get an internal server error.
The Mods and experts here will have the complete information and will also help on the Body ID plate. I don't want to get in trouble with the Mods…but here goes, from what I recall,
VIN = 223871L109078
223871L109078
The first digit is the GM line number. Pontiac is 2.
The second digit is series number. Firebird is 2.
The third digit is Model/Engine number. For Standard model (1970-71) it is 3.
The fourth and fifth digit is Body type number. For the Sport Coupe (all)(1970-71) it is 87.
The sixth digit is model year. For 1971 it is 1.
The seventh digit is the assembly plant. Van Nuys, California is L.
The eighth to twelfth digit is sequential production number. It starts with 600001 for L6 models and 100001 for V8 models. So this car was a V8.
Hope this helps....

Get your motor runnin'.

Head out on the highway


Lookin' for adventure. And whatever comes our way.
1978 Pontiac Trans Am
WS6 Equipped W72 Engine Pontiac 400
Complete rebuild bored .030 over
Coded WC with 4-speed
Forged rods and pistons, 6X Heads
Hays performance clutch
Flowmaster 40 Series Mufflers
X-pipe 3 inch stainless dual exhaust
Hooker super competition
Ceramic coated long tube headers
Edelbrock Performer Series Carb 600 cfm
Taylor 8MM High Performance Spark Plug Wires
4 core heavy duty radiator
Heavy duty rear springs and shackles
Energy suspension bushings

---
Posted 04 January 2010 - 10:52 PM
Thanks!

---
Posted 04 January 2010 - 11:54 PM
Mike Gyger
Chilliwack, BC

Formula isn't mine, it's the wife's. She let's me work on it. FOR FREE!
---
Posted 06 January 2010 - 05:18 PM
a sunroof was never a factory option on firebirds,but i have seen alot of birds with aftermarket sunroofs,so i am sure that one you have found is aftermarket.

our birds:
1967 Firebird
1979 10th Anniversary Trans Am
1979 W72 400 4 speed Trans Am
1984 Trans Am 15th Anniversary
1991 Trans Am GTA
2002 Trans Am Collector Edtion #1358
2008 G8 GT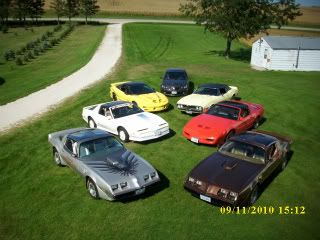 ---
Posted 08 January 2010 - 11:26 AM
thank you mike! I didn't think it was original but I was just wondering

---
Share this topic:
Page 1 of 1
You cannot start a new topic

You cannot reply to this topic
---
3 User(s) are reading this topic

0 members, 3 guests, 0 anonymous users